D Design collaborated with renowned local designers from MIXUE Design to incorporate local characteristics and jointly create the first flagship store in Australia.
 Similar to MIXUE Design in China, the Sydney store still maintains the iconic red and white color scheme of Snow King and incorporates unique designs.
​D Design联合国内蜜雪设计师融入当地特色,与蜜雪冰城设计团队联手打造了全澳第一家旗舰店。
与国内的蜜雪冰城相同,悉尼店依旧沿用了雪王经典的红白配色,也融入了这边独特设计。
Concept & Branding Design
Design Documentation RDM Approval
CDC Approval Documentation
Design Management and Construction Review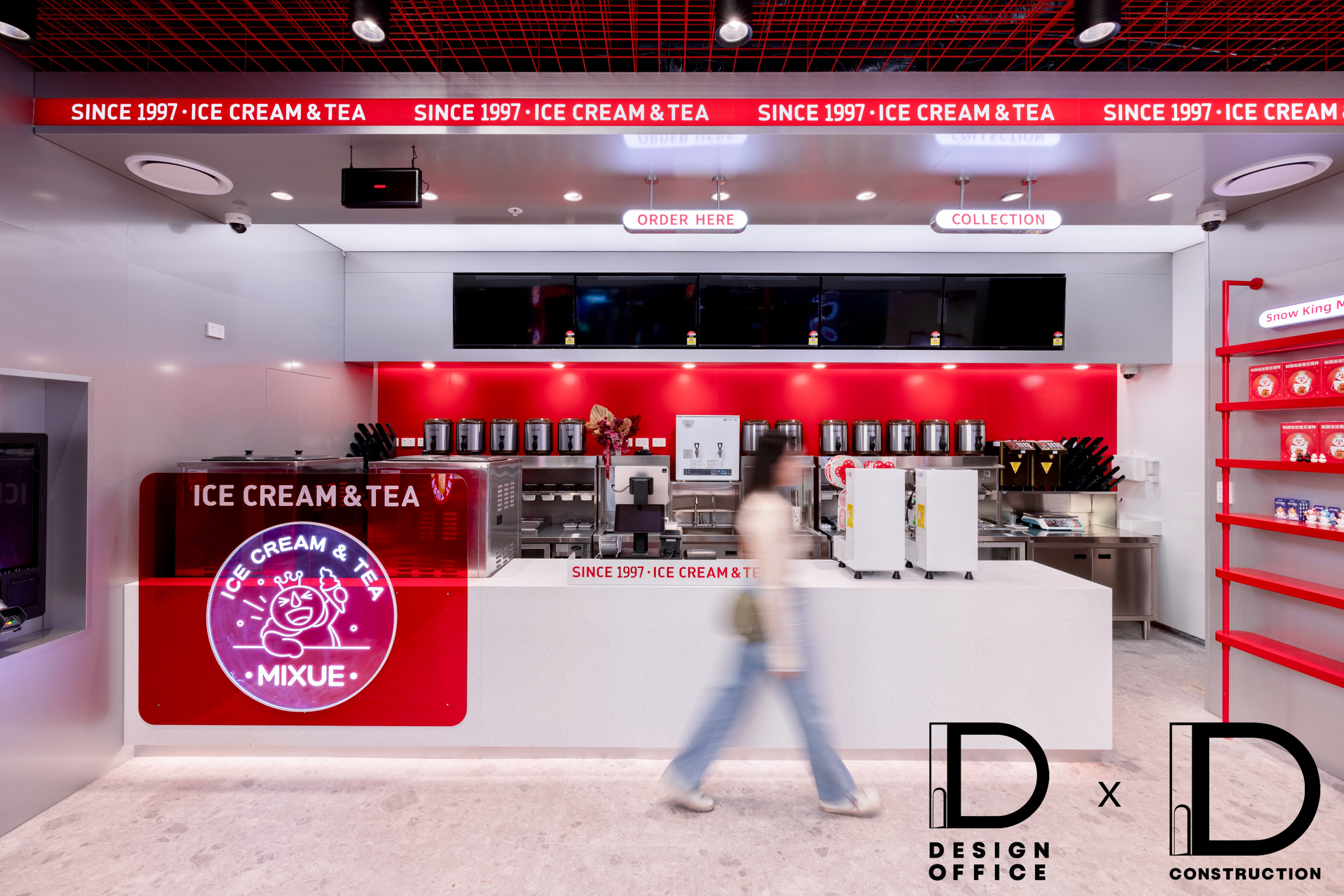 The eye-catching part of the design, visible when looking up, is the red hollowed-out iron mesh, which complements the large glass doors and windows of the shop, creating a distinct sense of hierarchy in the small space.
 As the first "castle" of Snow King outside of China, the Sydney store focuses on creating a translucent atmosphere in its design, providing customers with a clear visual experience upon entering. To achieve this effect, silver-white baked paint aluminum panels are used for the overall wall surface, and translucent acrylic panels are chosen for the signage inside the store.
抬头可见的红色镂空铁网是整个设计最吸睛的部分,与商铺大块的玻璃门窗互相映衬,让小小的空间层次分明。
由于悉尼店是雪王走出国门后的第一座"城堡",在设计上致力于给予空间一种剔透的氛围感,使得顾客踏足时能拥有清通的视觉体验。为了达到这种效果,(整体墙面)运用了银白烤漆铝板,店内的招牌也是选用了透光的(亚克力面板)。
Thank you to every skilled and creative construction worker who impeccably showcased the unconventional materials and designs, giving Snow King a brand new look upon landing in Sydney.
感谢每一个独具匠心的施工人员,把些许另类的材料与设计淋漓尽致的展现出来,让登陆悉尼的雪王改头换面。